The Woosmap Console is a user-friendly dashboard that enables you to manage your assets and review your metrics. It's the easiest way to upload your data and get your first experience with Woosmap.
Before You Begin
If you don't already have a Woosmap account, follow our signup process at this page https://www.woosmap.com/en/sign_up/?utm_campaign=Woosmap%20Sign-up&utm_source=Developers-documentation.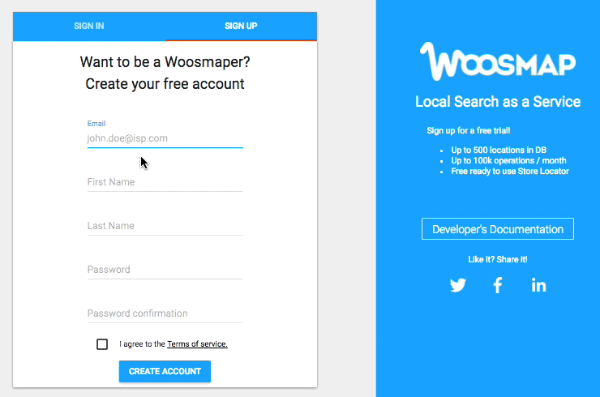 Otherwise, if you've already created an account or accepted an invitation from your owner organisation, sign in directly to the Woosmap Console.
After signing up, creating a local search experience is just three simple steps:
Create an Organization, an associated Project and a Private Key
Import the data you want to display, recommend and search.
Implement the local search in your site using either our front-end Javascript API or directly embedding the Store Locator Widget.
This three steps are described at the get started guide.
Organization And Members
Once your account is activated, if you're the first user of your team to login, you're invited to create an organization. An organization allows a group of users to collaborate together effectively, all while keeping your organization's information private. After creating the organization, you can invite users to join in by specifying their email. Click on Members on the left side bar and INVITATIONS button.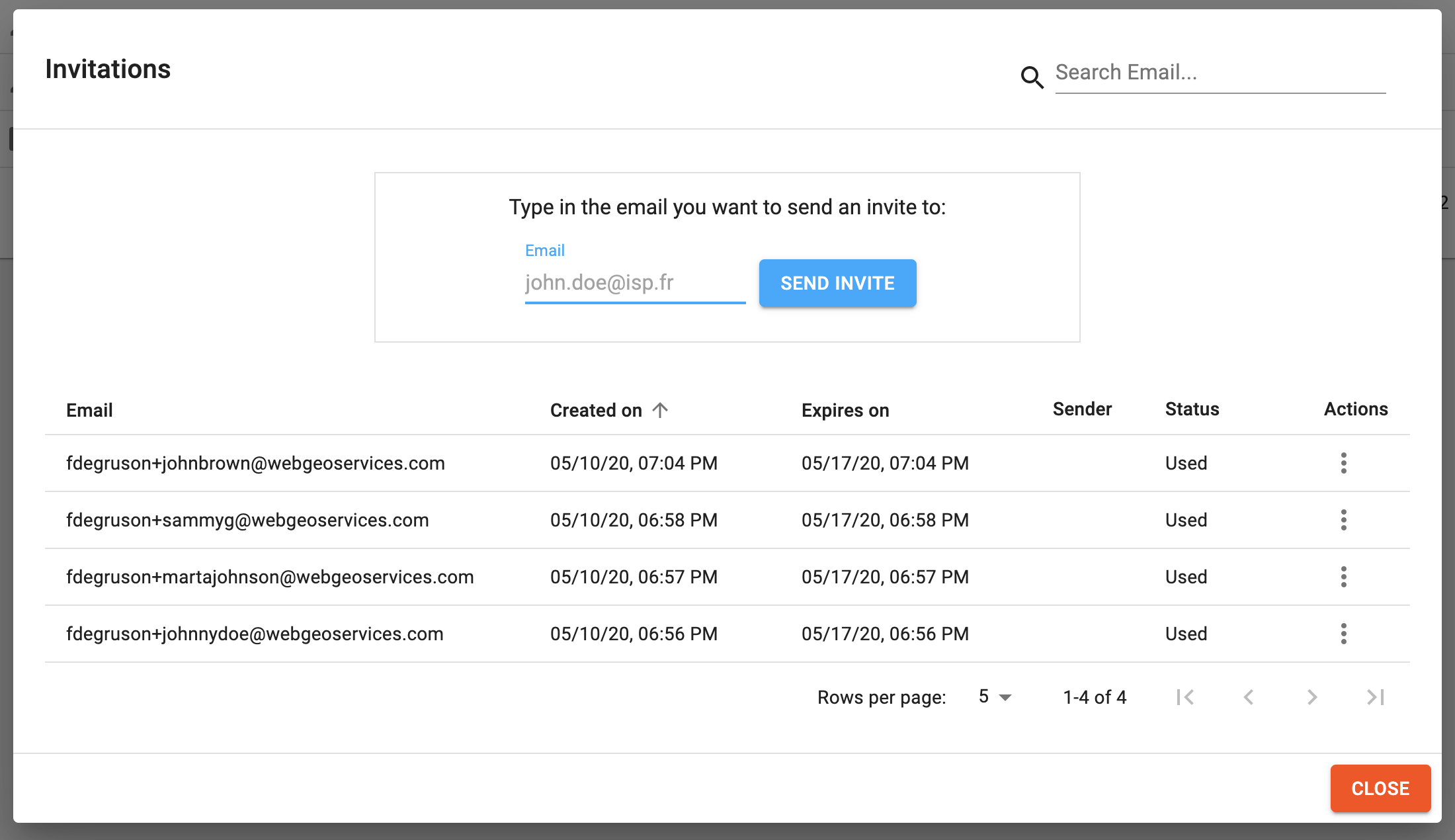 Each invitation must be responded to within 7 days or it expires.
All your projects will belong to this organization so if the owner decides to remove a user, the projects he created will still be accessible.
Project Overview
Projects are containers for your assets and associated analytics usage. The first step before uploading your assets is to create a new Project specifying at least a name. For your first experience, we recommend you to begin with our integrated step-by-step guide by clicking the tutorial button on top of the Project listing page.

Dashboard
When you login to Woosmap, the console displays a dashboard of counters for your projects, users and aggregated metrics.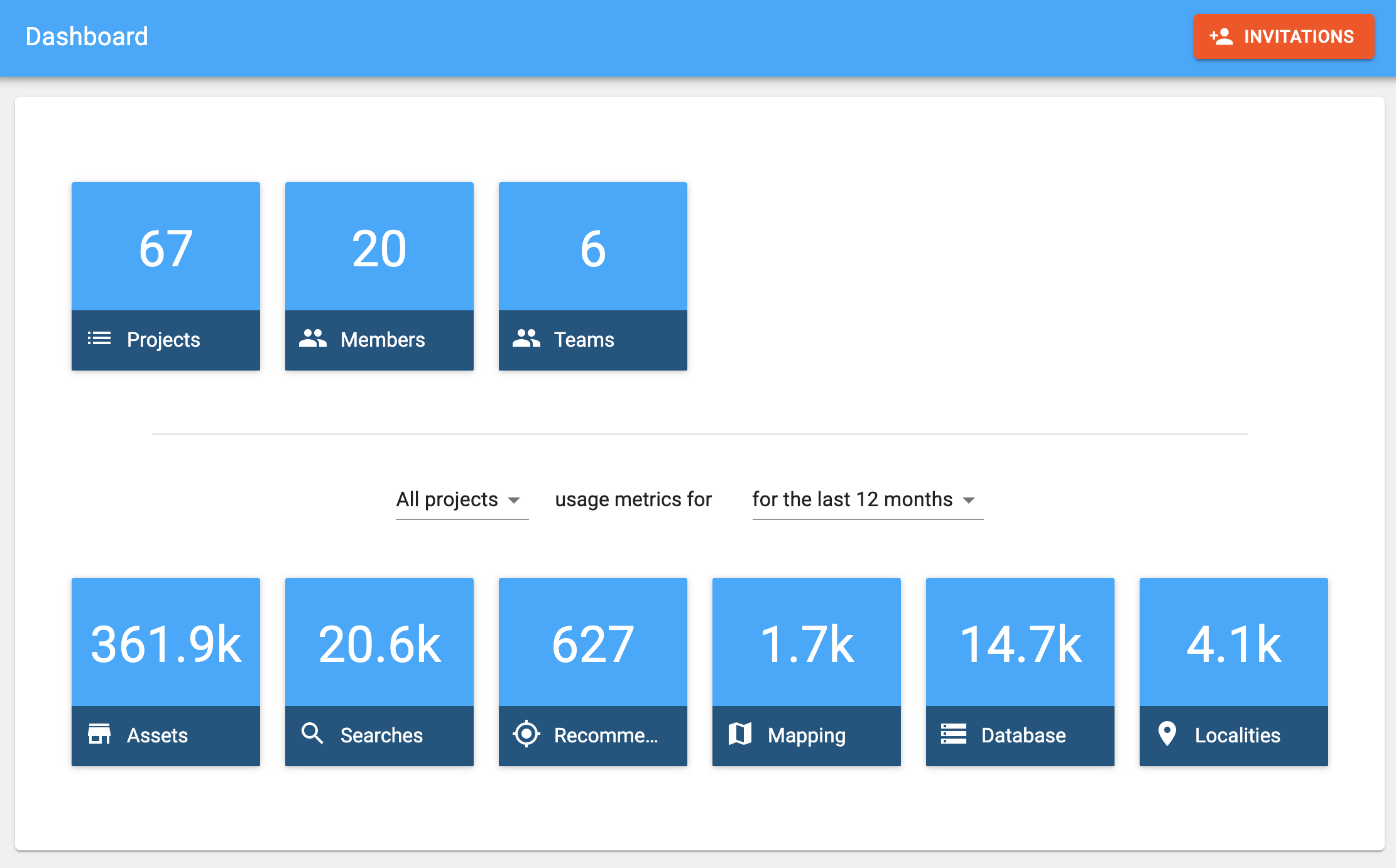 You are able to quickly refine your metrics for a specific project. Click on All Projects drop-down list to select the one you want. This page also enable you to navigate to your Project listing and Members listing by clicking the corresponding block.
Project Info
Click Projects on the left sidebar and select the one you want to manage.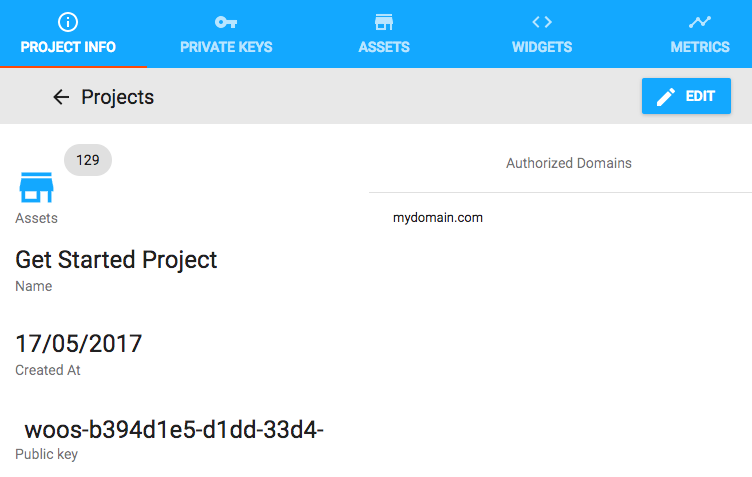 This tab is an overview of your project representing the number of assets, your authorized domains and your Public Key. The Public Key is automatically generated when you add a new project to your organization. You could have only one Public Key per project. You can here authorize new domains name (allowed referrers - *.mydomain.com) where your assets will be displayed, recommended or searched.
Private keys
Private keys allow you to manage integrations on the server-side and perform creation of new and updates of existing assets. As we aggregate analytics usage per project, it is good form to create separate projects based on intended use, such as one for your staging environment and one for the production environment.
Assets
Click Assets tab when viewing a Project.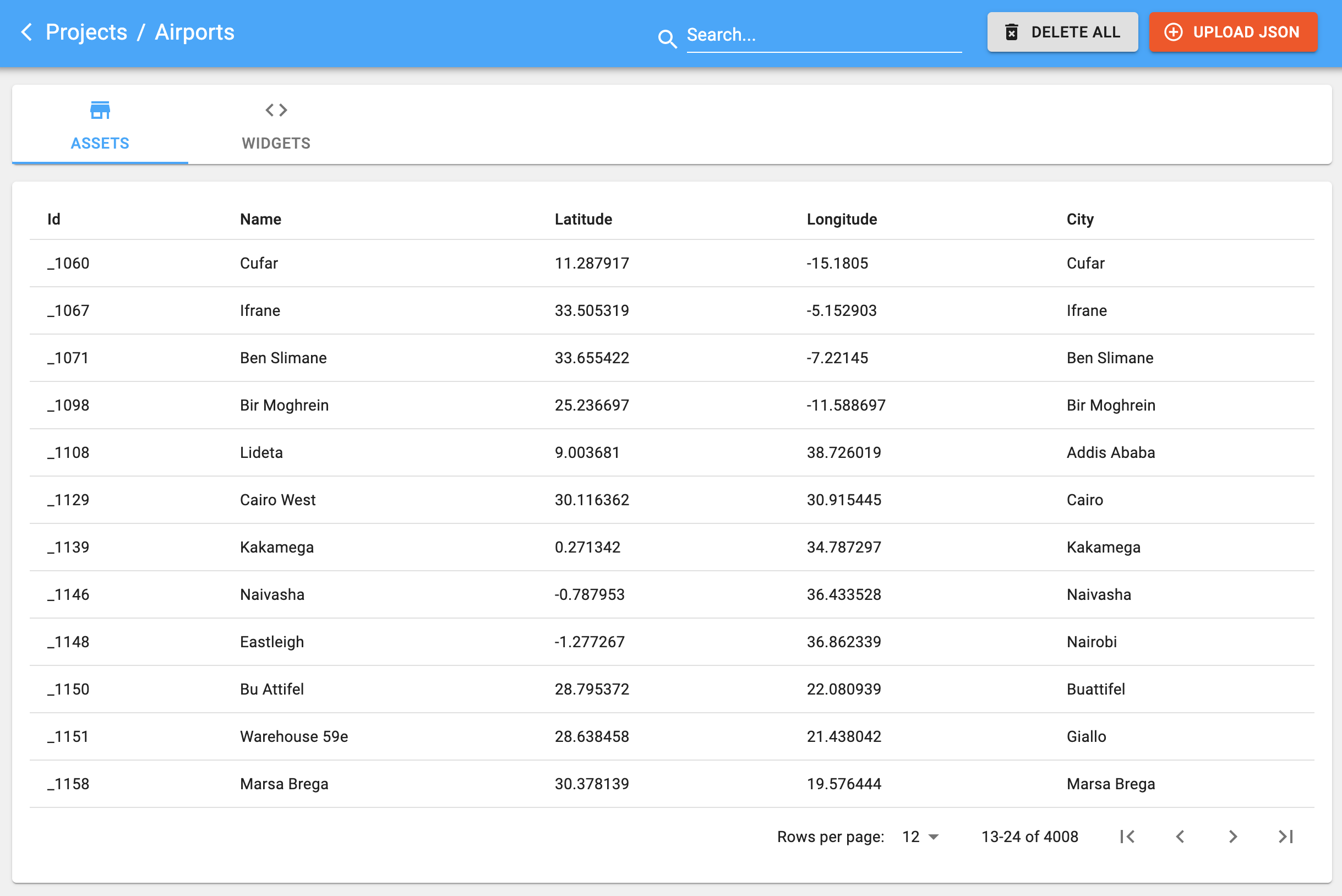 The page displays a table of your assets. As a prerequisite to manage them, you'll need to create a Private Key. From your assets dashboard, you can:
Add new assets by clicking the UPLOAD button and choosing POST method
Modify your existing assets with the UPLOAD button and choosing PUT method
View individual Input and Output asset JSON (as expected and returned by the Woosmap API)
Delete all your assets with the DELETE ALL button. Use this feature with caution because you will not be able to recover your assets!
Please note that to add or replace your assets using the console, the expected source data must be in native Woosmap JSON format.
Widgets
Click Widgets tab when viewing a Project.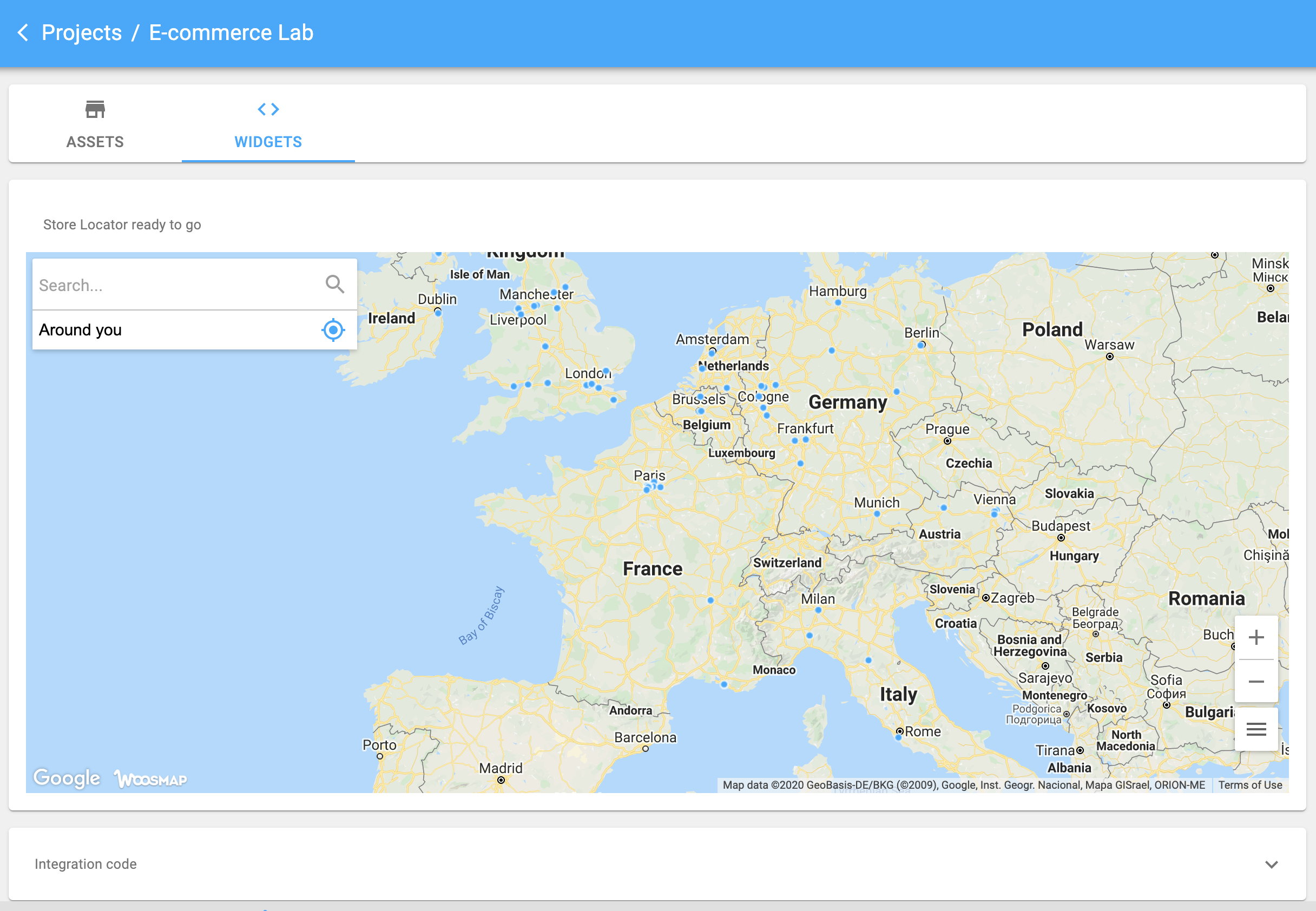 Display your locations on top of a map through the Woosmap Store Locator Widget interface. Below the map, click on the block Integration code and copy/paste the Javascript snippet wherever you want to embed the Store Locator Widget, and enjoy Woosmap.
To match your preferences and website's graphic style, several properties of your Store Locator Widget can be customised by the Woosmap team.
Woosmap Usage Reports
To view the Woosmap usage reports, click Metrics tab when viewing a Project.
The Woosmap usage reports provide real-time usage data for any APIs for which you use an API key, Private or Public. Note that the reports provide data from one hour and for up to 12 months.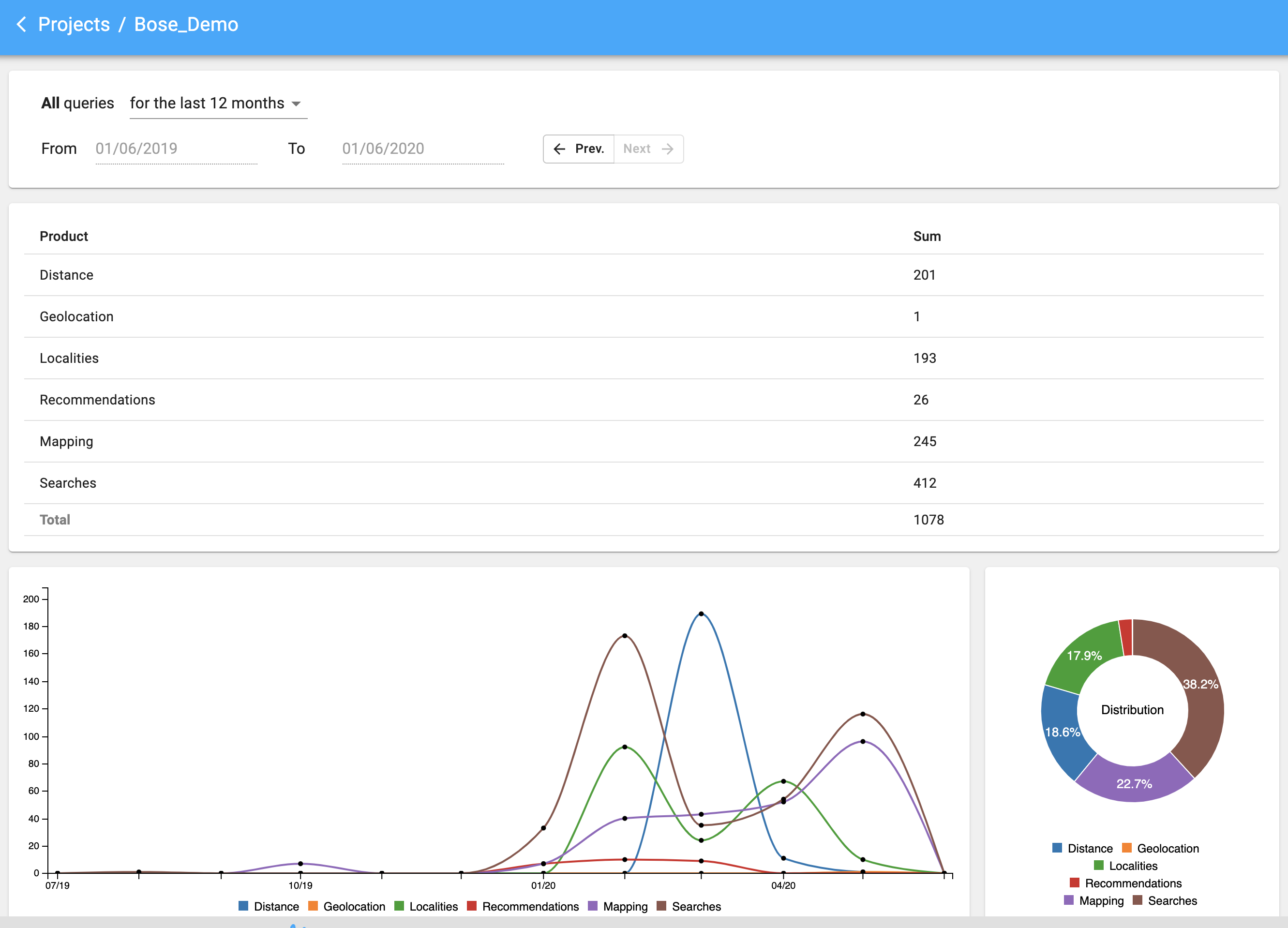 See below all the metrics you can retrieve. Click on each metrics to access corresponding fine-tuned indicators.
Searches
This counter represents the total number of times the search endpoint API was used using one of the following operations:
Public Search Stores: each times a nearby search stores is done either using the Woosmap Javascript API or the Woosmap Store Locator Widget.
Get Store By ID: commonly report a click on a store using the Woosmap Javascript API or the Woosmap Store Locator Widget. this counter is also incremented when you explicitly call the Woosmap Data API endpoint /store/id/.
Recommendations
This counter represents the total number of times the Recommendation Javascript API was used, splitted in two categories.
Get Stores: report each use of getUserRecommendation().
Get Position: report each use of getUserPosition().
Mapping
Ten Mapping are counted when any of the following occur:
A web page or application displays a map using the Woosmap JavaScript API.
A web page or application displays a map using the Woosmap Store Locator Widget.
After a web page or application loads a map, any user interactions with it, such as panning, zooming, or switching map layers, do not generate additional Mapping count.
Database
Count the use of internal data management operations. Please note that the increment is based on each asset and not on each call. For example a call to the endpoint api /replace giving it a json file of 100 assets will increment by 200 this counter (100 deleted and 100 created)
Import Stores: the number of assets updated or created using the PUT or POST method for /stores/ endpoint API.
Delete Stores: the number of assets deleted using the DELETE method for /stores/ endpoint API.
Replace all Stores: the number of assets replaced x2 (it first delete then create the asset) using the /replace endpoint API.
Related help articles
Was this article helpful?